In Memoriam
This page is dedicated to band members no longer with us. Thankfully, it's a small page.
BRIAN FRASER
Brian was the CRPB's bass drummer for a number of memorable seasons. He was involved in a car accident in Winnipeg October 29, 2005. This is a page in his memory.


Brian never really planned to play in the band. He had already moved from Regina to Yorkton [about a 2-hour drive] and stopped in to a practice one day when he was visiting in Regina. We had no bass drummer, and asked him to "just play some tunes with us for the day." He often joked about that afterward. "You KNEW I wouldn't be able to say 'No'," he'd say. Yeah, we knew.


Brian was one of a very people who could make that work: playing bass from that distance. He was committed to the band, and he showed up more than some members right in town. We could always count on Brian. We know that was in part due to how supportive his family was. Sandy and the three kids were as enthusiastic about Brian's part in the band as he was, and that allowed Brian to do his thing.
One of Brian's proudest moments was winning "Best Bass" in the Grade 2 event at the North American Pipe Band Championships in Maxville, ON in 1997.
TIM DIXON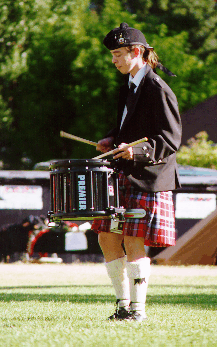 Tim Dixon died suddenly on August 16, 2001. Tim was a band member for a number of years, and proved to be an excellent musician, a good friend, and a great band member. He was loyal to the lead drummers he played under, and loyal to the band.


We are going to miss Tim's free spirit—his tie-dyed, dreadlocked, hemp-wrapped appearance, his sense of humour, and his kindness to others. Tim was a gentle soul with a great heart, and he loved his music and his friends, and was good to both.
Tim loved pipe bands and pipe band music, and he was also a part of other music groups, such as the Celtic band "Iron Brew" and a regular member of various drumming circles and groups in Regina.